Elementor Page Builder is one of the Best most user friendly WordPress Page Builder plugin that was on the top from 2019.
If you are a WordPress Developer or Designer you would probably know that, but if you are new to wordpress then Elementor is the best free page builder and we can create almost a good website with the free version.
With Elementor Pro we can build a dynamic website such as Customizing Blogs, Ecommerce Pages, Booking Pages and more dynamic websites.
Its really popular for Building a website without code.
It also comes with a Pro version with 3 different plans but not a lifetime plan.
Elementor Old Pricing Plans Till March 9, 2020
| | | |
| --- | --- | --- |
| PERSONAL | $49/year | For 1 Site |
| PLUS | $99/year | For 3 Sites |
| EXPERT | $199/year | For 1,000 Sites |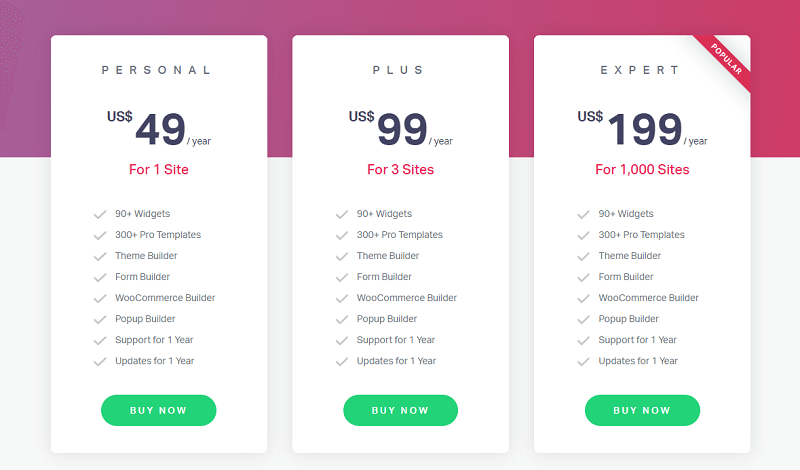 All Plan comes with a 30-days money back guarantee
New Elementor 2020 Pricing Plan from March 9
There was an update on 09-February-2020 about the new pricing plan for elementor with some changes on pricing and use of license including two additional plans have been included which will be updated from March 9, 2020

According to Elementor Notification
What's staying the same?
All current users with an active Pro subscription keep the same terms for that subscription.
Personal and Plus plans are not changing in terms of price and service. They will be renamed Essential and Advanced respectively.
What's changing?
Expert plans, purchased after March 9th for $199 / year, will now support up to 25 sites.
We want to give everyone a chance to get in on the current Expert plan ($199 / year for 1,000 sites) before it is discontinued - so users who wish to purchase this plan have the opportunity to do so before March 9th - purchase here.
What's new?
Two new plans designed for bigger teams and users with a larger client base - Studio ($499 / year for 100 sites), and Agency ($999 / year for 1000 sites)
New plans will have access to VIP support (24/7 chat and team access), tailor-made, relevant content and the ability to open a profile on our Experts network.
We are continuing to make significant improvements to our Premium support (relevant to Essential, Advanced, and Expert plans) response and resolution time. This year we aim to double our support team again, as we did in 2020.

The New Pricing Plan for Elementor 2020
| | | | |
| --- | --- | --- | --- |
| PERSONAL ESSENTIAL PLAN | $49/year | 1 Site | Premium Support |
| PLUS ADVANCED PLAN | $99/year | 2 Sites | Premium Support |
| EXPERT PLAN | $199/year | 25 Sites | Premium Support |
| STUDIO PLAN | $499/year | 100 Sites | VIP Support |
| AGENCY PLAN | $999/year | 1,000 Sites | VIP Support |
New Elementor Pricing Plan from 9 March, 2020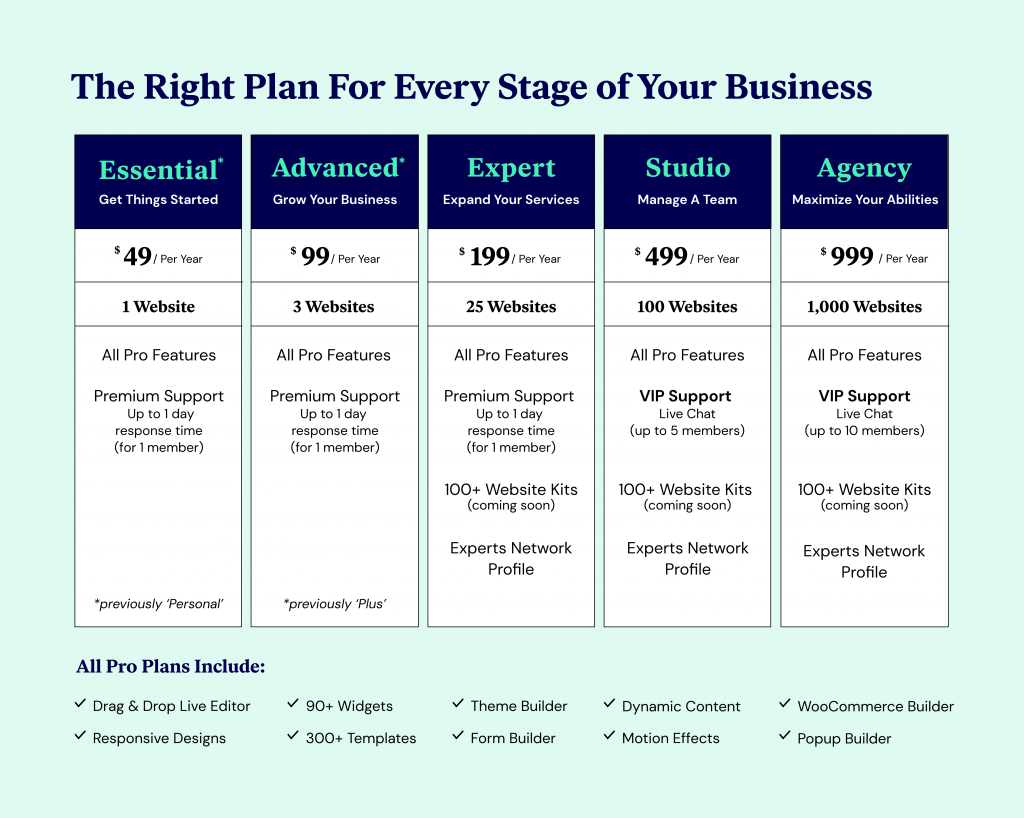 Important note for current Expert plan users!
Users on the current Expert plan ($199 / year for 1,000 sites), who would like to access the Agency plan to enjoy VIP support, team access and more, will get a limited-time 50% discount when upgrading to the Agency plan (valid from March 9th, 2021 until June 9th, 2021). This discount will also apply on renewals as long as the account is kept active.
Premium Support (Essential, Advanced and Expert)
Support by email, with a human response time of less than one business day (on average).
VIP Support (Studio + Agency)
Access to 24/7 live chat or support by email. Users who choose to open a ticket via email will receive a human response in less than 30 min from reporting an issue (on average).
Additional team members will have access to VIP support under the same subscription – Studio up to 5 members and Agency up to 10 members.
Get Elementor Pro now and start creating cool websites with this powerful page builder